A few weeks ago, Kevin Spacey shared his thoughts on the serious current situation caused by Coronavirus and what we can do to work on ourselves during this difficult time. Kevin mentioned the American Beauty tagline, "Look Closer" to explain how important it is to just stop and take a closer look at our life.
"I was looking at the [American Beauty] poster and I noticed, just under the title, are two words, two really simple words, it says "Look Closer"; and I realized I never really saw that before, I mean, yes, I saw it, I mean, I must have looked at that poster more times than I can count, but I never really saw it, I never really stopped and looked closer at my own life. But when you do stop and explore the personal, the spiritual, your health, your relationships, the changes can be real and the rewards will keep coming"
So, we decided to share with you, some surprising American Beauty facts you probably didn't know.
1. THE FAMOUS ROSE PETAL SCENE WAS ORIGINALLY SUPPOSED TO FEATURE MENA SUVARI IN JUST A TUB OF WATER.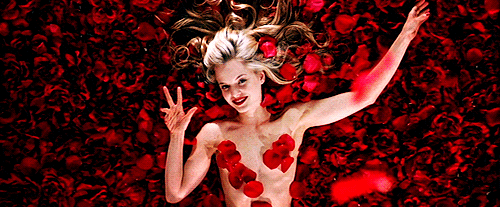 Leave it to then-first-time filmmaker Sam Mendes (who won an Oscar for his work) to turn the idle into the iconic. According to the director, the film's signature scene featuring Kevin Spacey's Lester fantasizing about Mena Suvari's Angela wading in a pool of rose petals was originally a lot less cinematic. "Originally it was a pool of water that Mena was in above Kevin and then I turned it into a sea of roses, which was easier to get together and to shoot. We first shot it on high-speed camera with real rose petals being dropped from cranes and then we reversed the film. But the camera broke and I watched the dailies—the film was already damaged—and Mena was immobile," Mendes told Total Film. "Thank god we were able to shoot it again because what makes it so beautiful is her motion. We were shooting six times slower than normal speed so she had to flap her arms up and down like a demented butterfly."
2. THE SCENE WHERE KEVIN SPACEY SINGS "AMERICAN WOMAN" WAS IMPROVISED.
Several actor improvisations were incorporated into the film. The most memorable? Kevin Spacey's solo of "American Woman" as Lester smokes a joint and passes through a drive-thru after quitting his job. "If I feel like somebody's stuck in a scene I'll sometimes say, 'Put down the camera, everybody go have a cup of coffee, we're just going to improvise for a bit,'" Mendes explained of his directing methods.
3. ANNETTE BENING WOULD IMPROV AS CAROLYN BURNHAM WHEN THE CAMERAS WEREN'T ROLLING.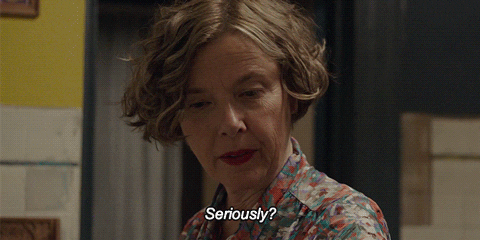 In 1999, Spacey told Playboy, "She would do improvs where she would begin talking as Carolyn. It would be not only hilarious but frightening. She became like this Stepford wife. I don't know how Warren [Beatty] put up with it. I'm great friends with her, but if this goes to series, I worry for her children."
4. AMERICAN BEAUTY WAS INSPIRED BY AMY FISHER AND JOEY BUTTAFUOCO.
For those unfamiliar with the early 1990s scandal, the two made headlines for their illicit affair; Fisher, who became known as the "Long Island Lolita," was 17 years old when she shot her lover's wife, Mary Jo Buttafuoco, in the face. She served a little over six years in prison while Joey spent four months behind bars for statutory rape.
"I had been working on the basic premise … for eight years," Alan Ball recalled to the Archive of American Television. "The genesis of the idea for me was the Amy Fisher/Joey Buttafuoco business in New York City. When I was living there, I was working at Adweek and I came out one day and some guy was selling a comic book about Amy and Joey. On one side was this virginal-looking Amy and a big leering, lecherous, predatory Joey. You flip it over and he's all buttoned-up and she's all tarted up and predatory slutty vixen. I remember thinking the truth is somewhere in those, and we will never know what it is."
5. SAM MENDES STORYBOARDED THE ENTIRE FILM BEFORE FILMING.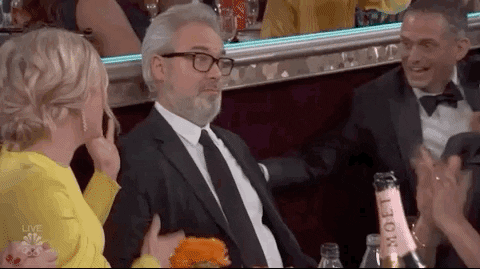 As Mendes's origin story goes, Steven Spielberg—who bought Alan Ball's script for DreamWorks—had been a fan of the up-and-coming director's work after seeing his production of Oliver! in London. When it came time to find a director for American Beauty, Spielberg remembered Mendes's work and went to see his production of Cabaret with the film's producers, Bruce Cohen and Dan Jinks. That was the clincher. When offered the job, Mendes—along with cinematographer Conrad Hall—remarkably storyboarded the film from start to finish. "I enter things visually before I enter them emotionally," Mendes, who used this same process as a stage director, told The Guardian.
6. THE STOMACH AND HAND FEATURED ON THE MOVIE'S POSTER IS MODEL CHLOE HUNTER, NOT MENA SUVARI.
Mena Suvari was not the model for the film's eye-grabbing poster. Rather, as Hollywood.com dug up, it was model/actress Chloe Hunter. The California native has had small parts in Down to You (2000), Leprechaun in the Hood (2000), and Spun (2002).
7. THORA BIRCH NEEDED PARENTAL PERMISSION FOR HER TOPLESS SCENE.
For the scene in which Thora Birch's Jane Burnham takes her top off for creepy neighbor Ricky Fitts (Wes Bentley), Birch needed explicit permission from her parents to go half-nude. Why? She was 17 at the time. "To me, [the scene] made sense. It wasn't something that shouldn't be in there. It's something that would happen," Birch told The Berkshire Eagle. However, she fully acknowledged the backlash against it. "Some people got upset," Birch added.
8. THE TEENAGERS' DIALOGUE IN THE FILM WAS INSPIRED BY A GIRL BALL OVERHEARD AT A U2 CONCERT.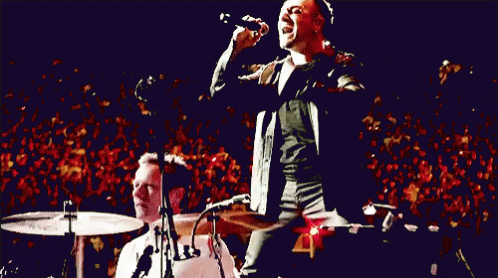 When asked about how he managed to capture American high schoolers so authentically by Ideas at the House, Ball remembered, "I have to say, I went to see a U2 concert right after I moved to Los Angeles and there was a girl in the row in front of me and she stood up on her chair and went, 'Oh my god, Edge I love you! I want to have 10,000 of your babies!'"
9. PAULA ABDUL CHOREOGRAPHED THE SPARTANETTES' CHEERLEADING ROUTINE.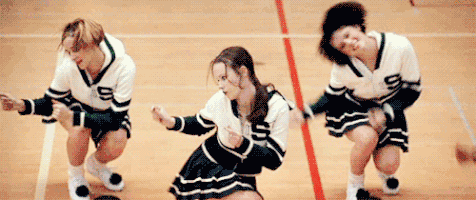 Paula Abdul isn't just a former American Idol judge and pop star; she actually came up as a choreographer. In the late 1990s, she revisited her Laker Girl days by choreographing the high school halftime routine that sends Lester Burnham into fantasyland.
10. JESSICA BIEL WAS OFFERED THE ROLE OF JANE.
Due to 7th Heaven conflicts, Jessica Biel, who was originally cast as Jane, had to drop out — leaving room for Thora Birch to take her place.
11. IN THE ORIGINAL VERSION OF THE SCRIPT, RICKY AND JANE WERE INVOLVED IN A COURT TRIAL.
But, according to Ball, leaving that in would've derailed the film thematically. "In the first draft, there was a framing device of a big media trial, where the videotape of Ricky and Jane has made them guilty in the public's eye. It all led to this horribly upsetting ending where they went on trial and got convicted," the screenwriter told Amazon.com. "We actually shot it, and when it got into editing it was just too cynical and too awful. Because with Thora and Wes in the movie, that love story is so heartbreaking, and the trial was also at odds with the whole heart of the movie, of Lester's journey and his realization, so it just fell out."
12. ALAN BALL HAD HIS OWN PROFOUND ENCOUNTER WITH A PLASTIC BAG.
Believe it or not, the bizarre scene, which eventually took on a life of its own, actually happened to the director. "I had an encounter with a plastic bag! And I didn't have a video camera, like Ricky does. I'm sure some people would look at that and go, 'What a psycho!' But it was a very intense and very real moment," Ball recalled to Amazon.com. "There's a Buddhist notion of the miraculous within the mundane, and I think we certainly live in a culture that encourages us not to look for that. I do like, though, that Ricky says, 'Video's a poor excuse, but it helps me remember.' Because it's not the video he's focused on; it's the experience itself. He's very connected to the world around him."
13. AMERICAN BEAUTY AND LOLITA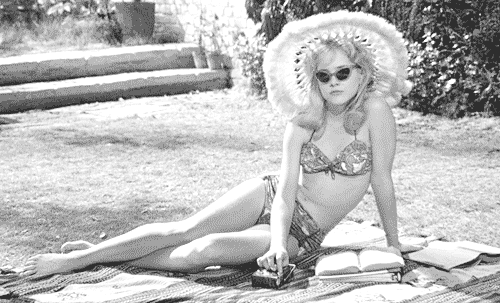 Angela's last name is Hayes, a reference to a similarly young and seductive character, Lolita Haze in Angela's Vladimir Nabokov's novel, Lolita.
14. A TYPE OF ROSE
"American Beauty" is a type of rose. This particular variation is beautiful on the surface, but often rots away at its roots. American Beauty is a deep pink rose cultivar, bred by Henri Lédéchaux in France in 1875, and was originally named "Madame Ferdinand Jamin".
15. IMPROVISATION
That epic scene where Lester hurls a plate of asparagus at the wall was actually intended to be thrown at the floor. His wall-throwing-antics were improvised, lending genuine reactions from Annette Bening and Thora Birch
– Read our Stories and visit our Facebook, Instagram and Twitter